Introducing our new event solution! A success story with the Hoyma Music Festival. Try out the solution by clicking here.
Our New Solution for Event Organisers
Mapheim is on a mission to help event organizers provide the best possible experience to their visitors. Mapehims' new solution simplifies the process of navigating venues and events for the visitor, making it a better and more seamless experience for them. Let us look into a real-world success story from our recent customer, Hoyma Music Festival!
The Challenge Faced by Hoyma Music Festival
The Hoyma Music Festival organisers faced the challenge of providing their guests with an easy way of navigating through 11 festival houses hosting two or more concerts each, checking performance schedules, and pinpointing the check-in location. To solve their problem, we crafted a custom solution, featuring an interactive map.
Mapheim's Custom Solution for Hoyma Music Festival
The approach was straightforward. Guests simply scan a QR code, granting them instant access to our mobile solution without the need to download any additional applications.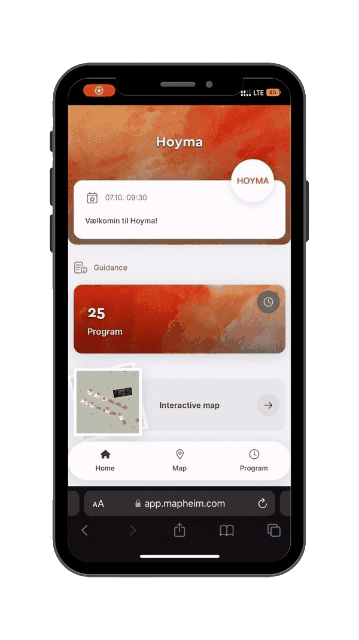 Once they've entered the mobile solution, visitors can use it on their phones or computers both before and during the event. The tool allows them to plan their visit with ease, providing them with information on performance locations, schedules, and descriptions. Users can conveniently filter performances by the location.
The interactive map helps visitors locate their desired show, by providing a visual of each house's position and the route to get there. By clicking on each house on the map, users can access popup descriptions with information on the events taking place at each location.
Our solution is fully tailored to meet the needs of the organisers, by integrating event branding, including the logo and colours. Users are also welcomed with a personalised message with the event date and time. This custom solution has an easy-to-navigate interface that can by used easily by anyone. There are even more benefits to the solution; for example, organisers can access analytics, allowing them to track attendee interactions with the solution and identify popular areas, frequently visited locations and most-watched performances on the list.
Feedback from Attendees and Event Organisers
This solution received positive feedback from both event attendees and organisers, with the majority of attendees using the solution throughout the event to navigate and streamline their event experience. This new event experience aims to streamline and simplify the visitor experience of all sizes and budgets.
Don't hesitate to contact us if you also want to provide your visitors with an enjoyable experience!